That rabblerouser, Brian Taraz, is at it again!
Now he's come up with a brilliant plan. I'll let him describe it in his own words:
Who's up for a "deed"-a-thon?
"Say: O servants! Let not the means of order be made the cause of confusion and the instrument of union an occasion for discord. We fain would hope that the people of Baha may be guided by the blessed words: 'SAY: ALL THINGS ARE OF GOD.' This exalted utterance is like unto water for quenching the fire of hate and enmity which smouldereth within the hearts and breasts of men. BY THIS SINGLE UTTERANCE contending peoples and kindreds will attain the light of true unity. Verily He speaketh the truth and leadeth the way. He is the All-Powerful, the Exalted, the Gracious.
(Baha'u'llah, Tablets of Baha'u'llah, p. 222)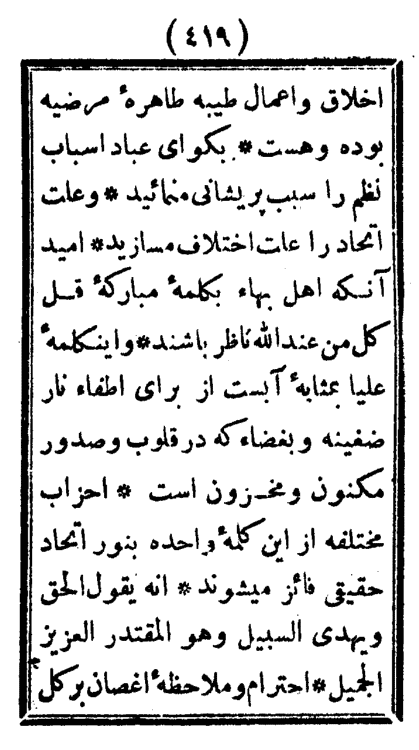 This passage is from the Kitab-i-Ahd. Baha'u'llah's "Book of My Covenant".
Here's the thing-
The phrase is "Say: All things are of God". The claim is that this SINGLE UTTERANCE can quench enmity and that "by it" peoples and kindreds WILL attain the light of true unity.
There are no caveats. No preconditions that the "UTTERERS" of this phrase need to be Baha'i.
So . . . I'd like to suggest a challenge to ourselves.
From now until May 23rd, the Declaraton of the Bab, that we utter this phrase daily and "see" what happens.
I'm a romantic so I'd imagine doing it with the same frequency of Muslim prayer. But it could be a morning or evening thing.
ANYWAY – I believe it should be uttered/intoned/chanted/sung whatever way provides internal resonance for the person.
And it has no phrasing that requires any particular Faith confession. So it can be a prayer/meditation/affirmation/mantra etc.
So? Let's try it.
In spite of the way some people think – the act of verbalized articulation is not simply "words" but is simultaneously a deed.
Let's do it.
Who's game?

Peace
Brian
(I'm in. Are you?)